Very many scholars argue and think that tourism in Congo thrives on Virunga National Park. However, the opening of kahuzi Biega national park to the world for tourism has faded away this notion. This national park is a new tourism site that has been less traveled hence offering the adventure kind of experience unique to the travelers. Kahuzi biega national park is found in the Eastern part of the Democratic republic of Congo covering a total land area of approximately 600,000square kilometers.
A visit to Kahuzi Biega National park will yield a bunch of adventure derived from the various activities that one indulges in and the following are the most striking ones;
Lowland Gorilla trekking
This park accommodates the greatest number of Eastern gorillas in the region. So this national park has become a top attraction for lowland gorilla tours in Africa. Two eastern lowland gorilla families have been habituated and ready for trekking which has provided travelers with a lifetime experience.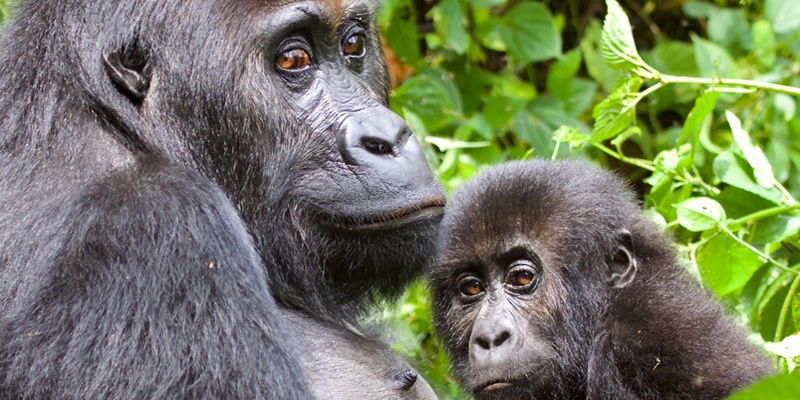 Due to the close relativeness of the gorilla specie with human beings (98.8% human genes) making them susceptible to human diseases. Masks have been provided to all trekkers to avoid the spread of human wildlife diseases.
Travelers learn how gorillas play different roles in their respective families, silverback as dads defending and planning for the entire family, adult females nursing the babies whereas the juveniles playing and entertaining the whole family. This interaction gives trekkers a real family experience like that of human beings. An hour spent with the gorillas is a lifetime experience that every traveler lives to tell about.
Just like mountain gorillas, you also need a gorilla permit to trek these lowland gorillas. A gorilla permit is still booked and applied for in advance from the liaison office of Kahuzi Biega national park in Bukavu.This  permit also costs $400 USD and it is valid for only that date it is issued for and not transferable.
Volcano Hiking
There is also hiking to over 2 volcanos in this park. There are two inactive volcanic mountains within the heart of Virunga national park which trekkers participate in hiking. More still, bamboo and subalpine vegetation, which harbor various animals, cover these volcanoes hence providing travelers a chance to encounter animals such as owl-faced monkeys and a variety of birds.
Birding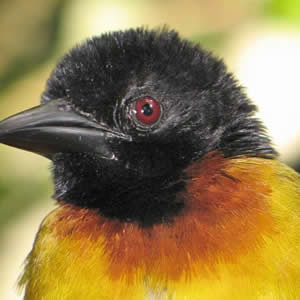 Being a home to approximately 342 bird species 42 0f that are endemic to the national park, kahuzi biega is a paradise for great lovers of birds. Among the birds spotted include African green broad bill, yellow crested helmet-shrike, Congo peafowl and Rockefeller's and many others. The national park is one of the threatened sites put under the protection of the international union conservation area (IUCN).
Nature walks
Travelers here follow trails in the tropical rainforest to different tourism sites. These trails lead to different sites such as the Tshibiti waterfalls trails to three waterfalls in the national park. Experienced guides lead travelers and help in spotting different vegetation types and wildlife in the national park. Sweet sounds of birds singing up in the trees are heard by the travelers and of course fresh air which freshens the minds of traveler. By the time travelers leave the forest, they have clear minds and more knowledge about wildlife in the national park hence a memorable experience.
Tshiabati waterfalls trail
This trail follows a well-defined and demarcated foot path that runs very close and adjacent to the 2 rivers thus providing a better, clear and spectacular view of the water falls. This path is made up of various steps that one strolls on his way to and from the waterfalls.SO this means that there is no room for wheelchairs and pushchairs.So in order to go for this trail, you must wear assorted hiking boots and shoes that are up to this task.
Lwiro Chimpanzee sanctuary:
Lwiro chimpanzee sanctuary is located 50km in Bukavu south of L.Kivu.It is also located just 10km from Kahuzi Biega national park.Tourists that wish to go and trek champanzees in Congo are generally advised and argued to go and visit these orphaned and isolated chimpanzees in this fascility.This facility is located in the former prison of Mobutu.
Lwiro primate rehabilitation and rescue facility is on the grounds of CRSN, Lwiro. Although its main focus is chimpanzees, it houses many other species, including baboons and a variety of monkeys and this provides great tourists attractions to Lwiro like visiting the local Community, Birding & adventure species in Congo.
What to Wear
Just like one visiting these primates in their habitat, also these chimpanzees in the sanctuary have to be taken care of since they are susceptible to human diseases especially the air borne diseases. So one with any kind of disease should not come near to this sanctuary. So masks should be wrapped around one's mouth in order to control the spread of such diseases to these primates in the sanctuary.
Planning a volunteering Safari tour to Lwiro Chimpanzee Sanctuary, find the complete list of the essential packing list of clothes and needs to enable your stay in Congo, staying with the apes the entire day, learning how they feed, play and move. Even if its Congo Gorilla Trekking holiday to visit the Eastern lowland gorillas in kahuzi Biega national Park close to the Lwiro Rehabilitation centre.