6 Days Congo gorilla Safari-Gorilla Trekking in Congo.
Planning for complete Congo primate safari adventure to visit the mountain gorillas & eastern Lowland gorilla tours in Kahuzi biega National park with the element of Hiking Nyiragongo or Mount Kahuzi or Mount biega. Book 6 Days Congo Gorilla Safari adventure to visit all the Congo National parks of Virunga national park & Kahuzi biega national Park.
Enjoy 6 Days Congo gorilla Safari with Primate Safari Experiences

Enjoy gorilla trekking on 6 days Congo safari to visit eastern lowland gorillas & Mountain Gorillas in Kahuzi biega National Park & Virunga National Park respectively . Book primate tour to Congo at the most competitive price with primate safaris Rwanda.
Find promotional Gorilla Safaris to Africa at Active African Vacations to visit Central Africa and East Africa.
Trip Summary
Day 1: Transfer to Bukavu from Kigali ( 7 Hours driving time)
Day 2: Eastern Lowland gorilla Trekking & City Tour Bukavu
Day 3: Transfer to Goma
Day 4: Mountain Gorilla Trekking
Day 5: Hike Nyiragongo Volcano
Day 6:Descend Nyiragongo  & Transfer to Kigali
End of 6 Days Congo Primate Safari with Active African Vacations.
Detailed Itinerary
6 Days Eastern Lowland  & Mountain Gorilla ,Nyiragongo Hike
Book 6  Days Congo gorilla tour with Congo gorilla safaris to enjoy gorilla trekking in Kahuzi Biega national park & Virunga national park. Find the unique customized Congo safaris at Active African Vacations with reliable staff ready to make your African primates safari a lifetime tour.
This 6 days congo gorilla tour starts from Kigali Rwanda and ends in Kigali Rwanda so travelers should apply for multiple visa entry to Rwanda.
Day 1:Transfer from kigali to bukavu Congo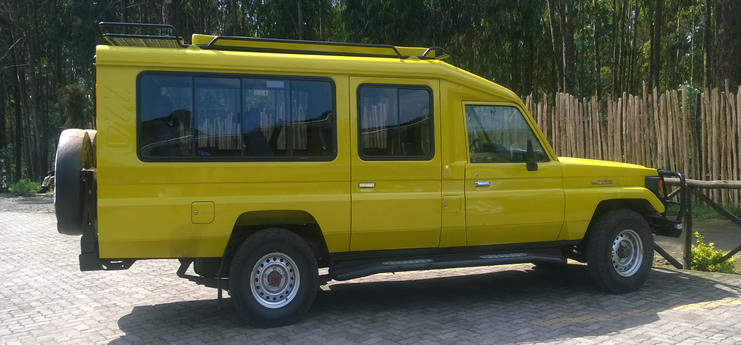 You will be picked by  driver guide from the hotel  and start to drive southwards to Cyangugu boarder on the way to Bukavu in Congo have lunch at (Butale Ibis hotel) and  continue cross the boarder  to Bukavu, Incase time allows visit some genocide memorials in Rwanda. Dinner and overnight at Orchid safari Lodge/ coco lodge.
Day 2: Lowland Gorilla tracking tour in Kahuzi Biega South Kivu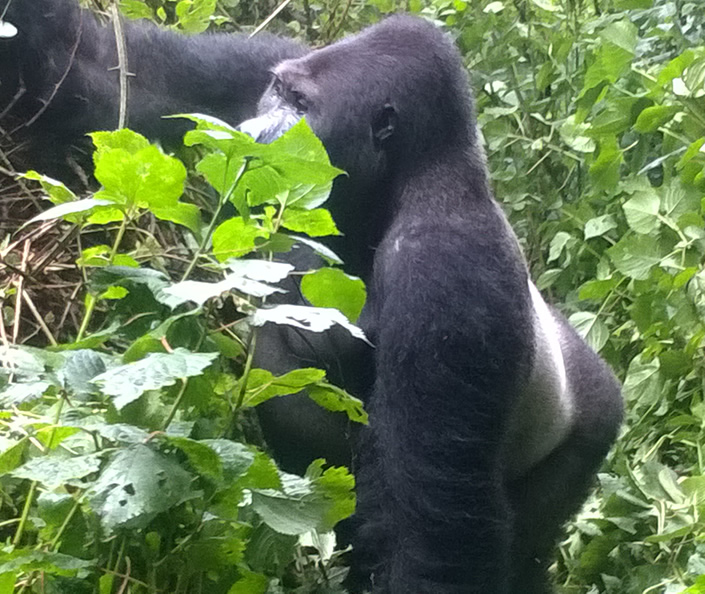 Early morning after breakfast, take 1 and half hour drive to Kahuzi Biega National Park for briefing ( Clients are entertained by Cultural performance) about the dos and donts while on eastern lowland gorilla trekking in the jungle and after enter into the forest to search for the primates and this activity can last for 2 -6 hours depending on their movement,once found you will spend one hour with them to allow you take photos and videos. After tracking. Return to the hotel for dinner and overnight.
Day 3: Transfer  to Goma
In the morning, take morning  along drive to Goma , Travelers may cross back & drive on Rwanda side to Goma and Reach in the afternoon gisenyi and cross the boarder to congo Side Dinner and overnight at Mikeno lodge/ Bukima tented Camp.
The Clients that like to enjoy longer sleep on the gorilla trekking day are encouraged to book their overnight at Bukima Tented camp Since gorilla trekking is done at bukima Side.
 Day 4: Mountain Gorilla Trekking in  Virunga National Park
Have an early breakfast and transfer to Virunga National Park Headquarters for  briefing about Gorilla Trekking Rules and later proceed to the jungle forest to search for the Most Endangered Species of Mountain Gorillas  with park rangers.
The gorilla trekking safari activity takes about 2-5 hours and once found you will be given 1 hour to take photos and stay with the mountain gorillas in the wild as you watch them play with the young ones and feeding, After return to the park headquarters, transfer to Goma after gorilla trekking and stay at Hotel Relaxing ( Mikeno Lodge).
Day 5: Climb Nyiragongo Volcano in Virunga National Park.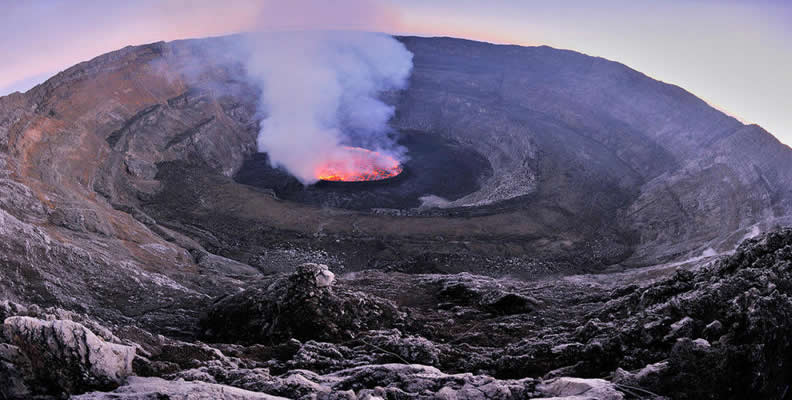 After an Early morning breakfast, head to the park headquarters for  briefing with park rangers, start Hiking Nyiragongo volcano (climb takes about 4 to 5 hours). Hike through an impressive rain forest, the climb continues on the lava eruption fissure, reach the summit.
Have the whole evening to enjoy the view from the crater and watch the lava inside. Dinner and Overnight in shelter at the crater.
Day 6: Descend to Goma- Rwanda

After Morning breakfast, you will descend to Goma and arrive at Kibati in the Afternoon around mid-day and transfer to Goma for lunch and later transfer to Kigali international airport for your flight.
End of 6 Days congo gorilla safari with Primate Safaris Rwanda

6 Days Congo Lowland & Mountain Gorilla Trekking Includes & Excludes on the prices.
Safari Includes
Eastern Lowland Gorilla Permit
City tour of Bukavu
Mountain Gorilla Permit
Nyiragongo Hiking permit
Genocide memorials in Rwanda
Accommodation & Meals as in the travel Plan
4WD Safari Jeep transportation
Knowledgeable English speaking Guide
Drinking Water & Lunch
 The package excludes
All expenses of personal nature
Air fare, Rwanda Visa
Congo Tourists Visa
Luxury Drinks & laundry.
Tips to local guides
Porter fee while trekking
personal insurance
personal shopping bills