7 Days classic Gorilla Tour-Gorilla Trekking Rwanda, Congo & Uganda.
Planning for classic gorilla tour to visit Rwanda, Uganda & Congo for gorilla trekking adventure, find the true ultimate 8 days epic african gorilla safari holiday with primate safaris rwanda to enjoy mountain gorilla trekking in all three known destinations for gorilla tours  starting with volcanoes national park , Virunga national Park congo, Bwindi forest or mgahinga National park & finally Uganda. Visit all african primates with ultimate gorilla expeditions on 7 Days/6 nights Africa gorilla tour.
7 Days/6 nights classic gorilla trekking Africa will reward you with the best opportunity to visit all Mountain gorilla destinations in the world starting from Rwanda, cross to Democratic republic of congo & later to Uganda for gorilla trekking adventure.
Trip Summary
Day 1: Arrival & Transfer to Ruhengeri. ( 3 hours driving time)
Day 2: Gorilla Trekking in Volcanoes national Park & transfer to Lake Kivu
Day 3: Hike mount nyiragongo Volcano ( 5-8 hours depending the group size)
Day 4:Descend mountain nyiragongo & enjoy evening city tour of goma.
Day 5:Mountain gorilla trekking in Virunga National Park Congo & Cross to Uganda.
Day 6: Gorilla Trekking in Bwindi
Day 7: Transfer to Kigali
End of 7 Days Triple gorilla trekking in Africa with ultimate gorilla expeditions

This 7 days epic gorilla tour to Africa starts from kigali Rwanda and ends at Kigali Rwanda, it will require you to apply for east African tourists Visa as it has multiple Entry to Rwanda.
Day 1: Arrival & Transfer to Ruhengeri.
Depending on the time of arrival in Kigali Rwanda, you will be welcomed by the tour guide of ultimate gorilla expeditions and transfer direct to ruhengeri town located in the northern province of Rwanda, if time allows you will visit the twin lakes located in volcanoes national park and enjoy the evening walk in the local communities. Dinner and overnight at Mountain gorilla view lodge/five volcanoes lodge/muhabura Hotel/Kinigi hotel. Meals full board.
Day 2: Gorilla Trekking in Volcanoes National park.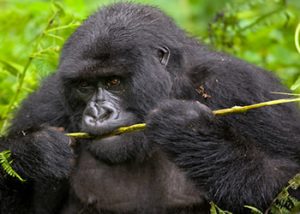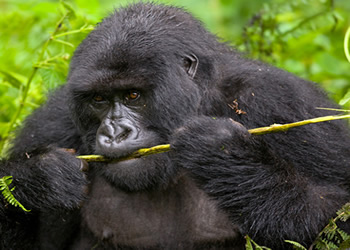 You will wake up early morning for breakfast and after you will be transferred  to Volcanoes national park headquarter for briefing about the dos and donts of gorilla trekking, gorilla group allocation & Registration to be done by the guide as you enjoy the warm up tea & later take 30 minutes drive to the starting point for gorilla trekking activity and its likely to last between 3-5 hours and once found you will be allowed to stay with these primates for one hour and later return for the award of gorilla certificates. Return to the lodge for lunch & Transfer to Lake Kivu in the evening hours . Dinner and overnight at lake Kivu water front beach/lake Kivu Serena/ Discover youth hostel. Meals at full Board.
Day 3: Nyiragongo Hike in democratic republic of congo.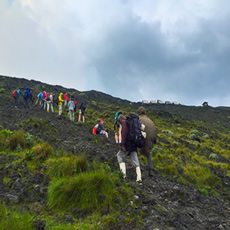 Wake up very early in the morning , enjoy the breakfast and drive to cross the border to cross for nyiragongo hike. This safari activity always starts at 9 am and the tour guide will be around to help you to cross perfectly to democratic republic of congo and later drive to kibati the starting point for the hike. This hiking adventure is likely to take between 5-7 hours depending on the size and speed of the group. Dinner & overnight at the Summit shelters of Nyiragongo Mountain.
Day 4: Descend Mount Nyiragongo Volcano.
Raise up very early in the morning and enjoy the simple breakfast provided by the chief of Ultimate gorilla expeditions and start to descend the Mount Nyiragongo, & arrive at the base in noon hours, proceed to Mikeno lodge for lunch and after visit the mountain gorilla orphanage centre for gorilla watching. Visit the Senkwekwe Gorilla Orphanage  which is located in Rumangabo next to Mikeno lodge and its among the reasons why we recommend booking accommodation with mikeno lodge.Dinner and overnight at mikeno lodge.Meals full board.
Day 5: Gorilla Trekking in Virunga National Park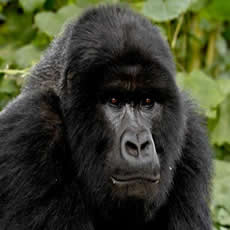 Wake up very early in the morning hours and Transfer to Bukima the starting point for mountain gorilla trekking in virunga national park for briefing about the dos and donts while enjoy gorilla trekking with the park rangers of Virunga. This safari activity lasts between 2-4 hours and after gorilla trekking you will jump into the safari jeep to transfer back to rwanda via Goma, enjoy lunch on the waters of lake kivu, proceed to drive to Uganda. Dinner and overnight at Lake Mutanda Resort hotel/ Kisoro traveler Hotel/Golden monkey guest house/mucha Hotel. Meals full board.
Day 6: Gorilla Trekking in Bwindi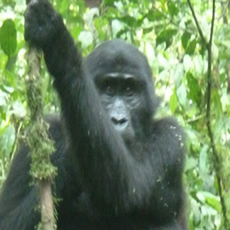 Have early breakfast, pick your packed lunch from the lodge, carry enough drinking water and transfer to the briefing point by 7.30am. You will be assigned a gorilla group, meet the ranger guide for briefing and there transfer to the start if the trek into the forest. The gorillas are located in different places across the forest and therefore the time taken to find one group varies from another. You are allowed no more than one hour to observe these gentle giants, after which you return to meet the driver guide and transfer back to the lodge for relaxation and overnight.
Day 7: Transfer to Kigali
Have breakfast in the sun rise morning  and after embark your safari jeep and transfer back to Kigali airport for your return flight back home.
End of 7 Days classic Epic Gorilla Tour to Rwanda, Congo & Uganda with primate safaris Rwanda.
7 Days Rwanda  Congo & Uganda Gorilla trekking safari includes & excludes on prices from Ultimate gorilla Expeditions.
Safari package includes
Transportation by 4WD safari Jeep
Accommodation and meals as per itinerary
Gorilla permits x3
Nyiragongo volcano Hike permit
Driver allowances
En-route lunches
The package excludes
Expenses of personal nature like: Air fare, Visa, drinks, laundry.
Tips to local guides,
porter fee while trekking,
personal insurance,
personal shopping bills