Primate Safaris Rwanda: Gorilla Trekking Tours & Chimpanzee Safaris in Uganda,Rwanda & Congo.
Welcome to Primate Safari Experiences, a local tour operator offering specialist primate safaris in East and Central Africa. We can tailor-make your primate safari in Rwanda, Uganda, and the Democratic Republic of Congo. Our safaris include gorilla trekking safaris, chimpanzee tours, golden monkey tracking, and other primate watching adventures into Africa. We can tailor-make your safari to include other adventures such as wildlife safaris, Mountaineering tours, nature tours, birding, and more.
Gorilla Trekking in Rwanda.
When it comes to gorilla Safaris in Rwanda, We offer exclusive luxury gorilla trekking trips to Volcanoes National Park Rwanda. Our Gorilla Safaris extend to Uganda, DR Congo which is among the world's known destinations for hosting the big number of primate-like Gorillas, Chimps, Bonobos, Monkeys, and more.  Contact the experts to tailor-make the best Gorilla Safari & Golden Monkey trekking.
Chimpanzee Tracking in Africa.
When it comes to chimpanzee watching, we offer comprehensively guided chimpanzee safaris in the Nyungwe forest and extend to Kibale Forest, Kalinzu forest.
Last Minute Primate Safaris.
We offer last-minute primate safaris to Rwanda to enjoy gorilla trekking, Chimpanzee watching, golden monkey treks in the magic national parks of Rwanda. Primate Safari experiences will offer you the best value for the safari in Rwanda, Uganda & DR Congo even on Last minute bookings.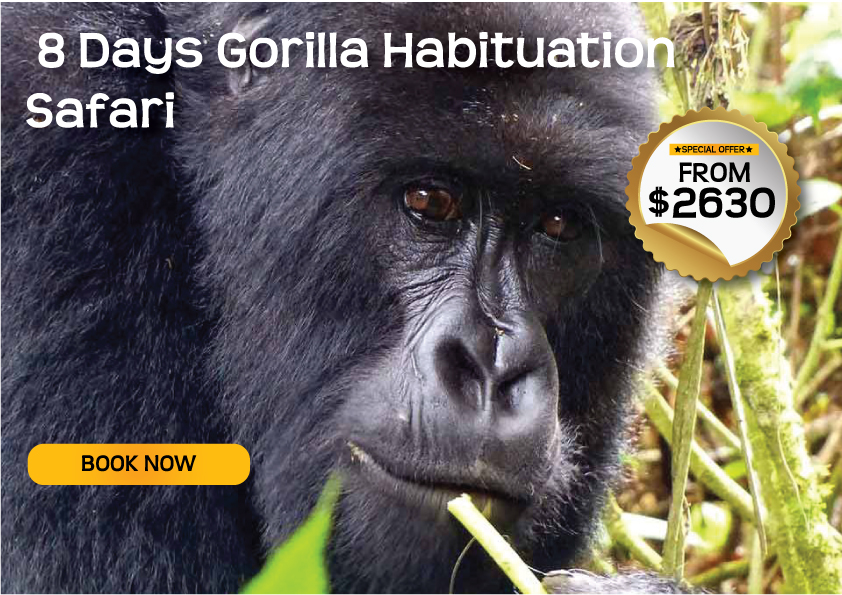 Find the Tailor made 8 Days Gorilla trek Africa Safari Adventure to visit Rwanda , Uganda and Democratic republic of congo on multi country gorilla safari experience with Primate Safaris Rwanda. Claim the special offer of 7% discount from the destination experts in offering Gorilla tours to Africa with a knowledgeable tour guide.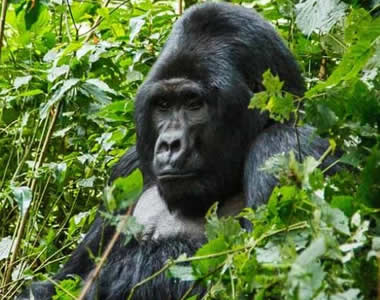 Visit Rwanda Mountain Gorillas in Volcanoes National Park on 2 Days Rwanda Gorilla Tour withPrimate Safaris Rwanda to enjoy Double Gorilla Trekking.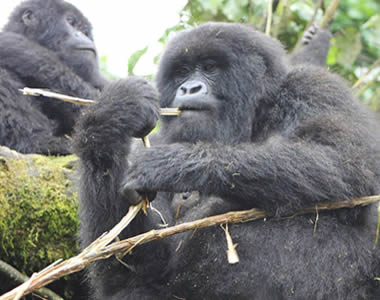 Go Gorilla Trekking and Golden Monkey Tracking in Volcanoes National Park on a 3 Days Rwanda Tour by Primate Safaris Rwanda at cheap prices.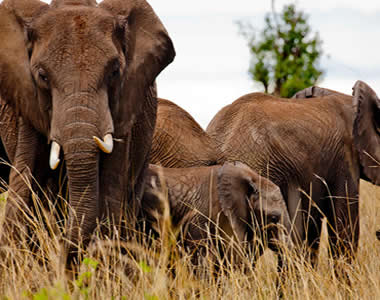 Plan a 10 Days Rwanda Safari Tour to enjoy Chimpanzee Tracking in Nyungwe, Gorilla Trekking in Volcanoes National Park and Wildlife Tour in Rwanda.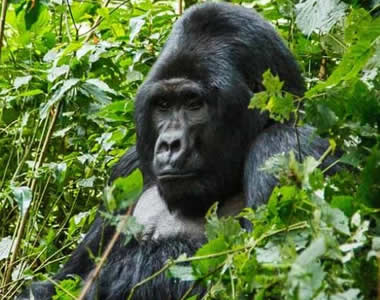 Visit gorillas in Africa on 10 days best Africa gorilla trekking tour exploring the mountain gorillas in Rwanda, Uganda and Democratic republic of Congo for eastern lowland gorillas.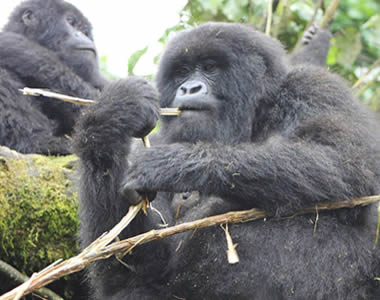 Explore the 12 Days Congo gorilla safari adventure to enjoy gorilla trekking in Virunga, Kahuzi Biega Congo, Chimpanzee Tracking in Nyungwe forest national park Rwanda. Find the best 12 days Congo primate safari tour.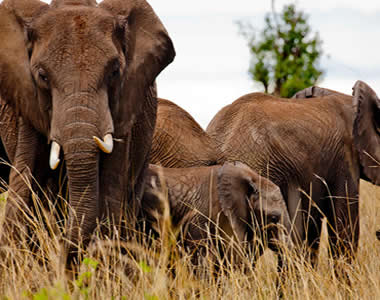 Explore Uganda wildlife & go gorilla trekking in Rwanda on 20 days Uganda Rwanda safari tour at the most affordable price. Go & Watch the big five animals in Uganda National Parks . Book now to enjoy discounted price with Us.
Secluded Safaris To DR Congo, Tanzania & Uganda
We pride ourselves on the quality of our itinerary planning and our personal touch for congo safaris.  Each Congo Safari and Nyiragongo Volcano Hike we put together is absolutely tailor-made according to the requirements and preferences of the individual couple.Your Congo gorilla Safari needs to be a truly once-in-a-lifetime experience and absolutely perfect!  With our in-depth knowledge and many years of travel planning experience, we can ensure that it will be.
Where Should you Visit in East Africa
East Africa is composed of five states including Rwanda, Uganda, Kenya, Tanzania, Burundi & Congo, all being ranked as the best tourism destination to visited on Honeymoon or Family safari vacation. With Safari Activities like Mountain & eastern lowland Gorilla Trekking, wildlife spotting which are all summarized below.  We would be happy to speak with you to create a tour that best fits your desires, budget and time frame, Call Us: +256392159498 .Email us:office@primatesafaris-rwanda.com
Republic of Rwanda
Mountain Gorilla Trekking
Chimps and other primates
Lake Kivu – boating and island tours
Rwandan Cultural Village Tours
Kigali capital tour, Genocide Memorial Museum
Congo Nile Trail
Democratic Republic of congo
Mountain Gorilla Trekking
Eastern Lowland Gorilla
Nyiragongo Volcano Hike
Mount Kahuzi & Biega Hike
Chimpanzee Tracking & Feeding
Wildlife Viewing in Okapi Reserve
Republic of Uganda
Mountain Gorilla Trekking
Chimpanzee Tracking
Chimpanzee Habituation
Wildlife watching like tree climbing lions
Mount Rwenzori & Elgon Hike
Nature walks & Community visit
Karamoja Cultural Experience
About Us
We are Primate Safari Experiences LTD, a  local Safari Company specializing in organizing primate watching safaris in East and Central Africa. We offer gorilla safaris, chimpanzee safaris, golden monkey tracking, and other primates tours combined with wildlife, mountaineering trips and cultural aspects of each destination to maximize your enjoyment of your holiday!
Our team has expertise in planning and arranging primate safaris to East & Central Africa and you can use our professional expertise and knowledge at fingertips to plan a perfect holiday.
Primate Safari Experiences donates a percentage of each safari sold towards the conservation of endangered primates in Africa. We embrance ecotourism to ensure that these wonderful creatures can be protected for not only the present generation but also the future generation.
Please contact us and we would be happy to help and share our expertise with you.
Why Select to Travel with Us
Africa – A continent unique in its beauty, culture, terrain, and people and untouched in its teeming wildlife, spectacular wilderness and pristine, sandy beaches. Why Plan with us:
Our Knowledge
Professional Guides
Experienced Staff
Passionate about Africa
Value for Money