14 Days Rwanda Gorilla Trekking & Tanzania Safari
Planning for an expeditious safari adventure to visit the mountain gorillas , Golden monkey & Wildlife Safari experience to explore the primates in Rwanda . This 14 days gorilla trekking & Tanzania safari will start with visit to Volcanoes national park for gorilla tracking & golden monkey watching and later visit the must visit Tanzania national parks for the true wildlife experience of Tanzania.
Book the 14 days Luxury Rwanda & Tanzania Safari adventure with Primate Safari Experience to visit the lovely national parks of Africa : its custom tailored tour to visit the primate in Rwanda with extension options to Democratic republic of congo.
Day 1: Transfer to volcanoes national park
The Company guide of Primate Safari Experience will pick you either  from Kigali international airport or your hotel in Kigali. Enjoy a simple city tour if time allows and than proceed to drive for 2 and half hours from kigali to musanze town which is the nearest biggest city to Volcanoes national park which is the home for the endangered primates like the mountain gorillas & golden monkey which are only found with in Africa's virunga mountains shared by Uganda, Rwanda and DR congo.
The Experienced tour guide of Primate Safari Experience will take you around the city of kigali visiting the historical places and the genocide memorial centres.If lucky enough with time planning , you will have lunch in the city enjoying the best local meals of true Rwandan Culture and later proceed to Volcanoes national park. Dinner and overnight at Five volcanoes lodge for Luxury / Davinci gorilla Lodge (Mid-range).
Day 2: Gorilla trekking in Volcanoes national Park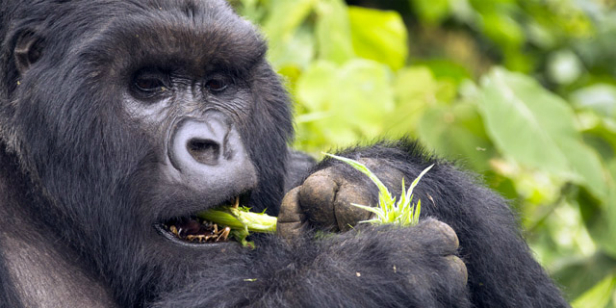 After morning breakfast at the lodge , the driver guide will drive you to volcanoes national park headquarters where you will be briefed about the gorilla trekking rules and regulations to be followed during the gorilla trekking for better conservation of the Endangered Mountain gorillas . Gorilla trekking in the wilderness of Volcanoes national park can never be the same like any other safari experience. After the breifying , the senior experienced park rangers will lead you deep into volcanoes ( baboon vegetation cover) in search for the Mountain Gorillas. You will move up and down the rugged terrain until you finally meet these harmonious creatures that will entertain you with performances as they go about their daily activities (Feeding and Praying with the young ones).  Once you meet the gorillas , you will spend one hour watching the apes and you may spot other primates in Volcanoes national park during the visit.Return to the lodge refresh and have lunch. Dinner and overnight as above.
Day 3: Golden Monkey Trekking and transfer back to Kigali
After breakfast at the lunch , you will head back to volcanoes national park  headquarters for briefing about the golden monkey tracking and drive to the Golden monkey tracking starting point. This golden monkey tracking may take between 2-3 hours and you will expect to spot the monkeys jumping from one bamboo tree to another. As you enjoy the golden monkey trek , you may spot other primates and birds which are found within the virunga mountains ranges.
Return to the lodge, have lunch and check out. You will then drive back to Kigali, check in at hotel 2000 where you will have dinner and spend the night.
Day 4: Take a flight to Fly to Arusha.
After breakfast at the hotel, check out and transfer to the airport for your flight to Arusha. Upon your arrival at the Kilimanjaro International airport, you will be welcomed by the experienced tour guide of Tanzania side and he will drive you to your lodge. The many activities that you can enjoy while still in the city include; swimming, shopping, and visiting the museum and many more, Dinner and overnight at The African tulip hotel on HB.
Day 5: Transfer to Tarangire National Park
After breakfast at the lodge, you will check out and Drive to Tarangire National park which is filled with acacia woodland and grassland inside that park. After having for your lunch, head off for a game drive in the park, which is famous for the giant baobab, pred trees. You will expect to spot large herds of elephants, predators like lion, leopard and the plain games. This national park also boasts large variety of spectacular bird life including the endemic species. Dinner and overnight at Tarangire Osupuko.
Day 6: Explore Tarangire National Park

In the morning , you will have breakfast at the lodge and after embark on a full day game drive with a picnic lunch. You will expect to view many animals as well as enjoying the many aspects of animal behavior. Some of these animals include; giraffes, wildebeest, zebra, common eland, wildebeest, gazelle, buffalo and elephant among others. The guide will point out the fascinating way elephants communicate with the subtle interactions. Dinner and overnight as above.
Day 7: Transfer to Ngorongoro crater
After an Early morning breakfast at your lodge or camp, check out and depart for Karatu where you will visit the Karatu Market and have an ethno- botanical walk including a visit to the local Iraq Tribe at Karatu area.  You will then proceed to Ngorongoro crater conservation area. Check in at Endoro lodge where you will refresh and have lunch. After resting you may choose to relax at the beautiful lodge or go for Ranger guided nature walk in the Ngorongoro Conservation Area along the Endoro Trail with hiking up to the Endoro waterfalls and the Elephants Caves. Dinner and overnight at Endoro Lodge.
Day 8: Game drive in Ngorongoro Crater
After an early breakfast at the lodge, you will take on the early morning game drive within the Ngorongoro crater, with picnic lunch at the hippo pool side. The game drive will go until later in the afternoon. You will expect to spot animals like; the black rhinoceros, African buffalo, hippopotamus, the blue wildebeest, Grant's zebra, common eland and Grant's and Thomson's gazelles, Waterbucks among others. Having done satisfactory game viewing in the Crater floor of the famous Ngorongoro Crater which is literally a natural zoo of wild animals. Later in the afternoon drive to the Ngorongoro Rhino Lodge for dinner and overnight.
Day 9: Transfer to Serengeti National Park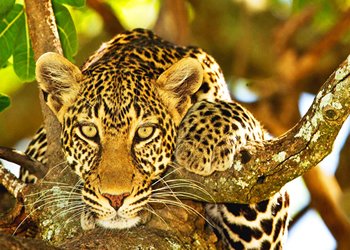 Early in the morning, you will depart for Ndutu via Olduvai Gorge in order to visit the interesting museum which is found at this famous world archaeological site that contains fossils of early two million year old human ancestors. You will continue for a game drive through the vast Ndutu area in the western Ngorongoro to the camp for your lunch. Head out for game drive later in the afternoon, before you return to the camp for dinner and an overnight. On your way you can also visit a Masai Village at the Ngorongoro Conservation Area. You will expect to spot some of the animals that live around the park. Dinner and overnight at Serengeti  katikati tented camp.
Day 10 & 11: Explore Serengeti National Park
After breakfast at the lodge/camp, you will go for a game drive. Set out ready with your packed lunch and enjoy a full day game viewing in the park, which is a home to the greatest concentration of the large mammals on earth. You will expect to spot; non- migratory species that include; large prides of lions, cheetah, solitary leopards, Thomson's and Grant's gazelle, and tens of thousands of topi and Coke's hartebeest. Masai giraffe, waterbuck, impala, warthog and hippo are also abundant. Some rarely seen species of antelope are also present in Serengeti National Park, such as common eland, klipspringer, roan antelope, bushbuck, lesser kudu, fringe-eared oryx and dik dik as well as the graceful impalas. The landscape in this park is characterised by open plains, kopjes, rock formations that survive from the Pre-Cambrian period as well as the open woodlands. Dinner and overnight as above.
Day 12: game drive to the Mara River
After breakfast at the lodge/camp, drive to the Mara river where you will expect to watch the great migration of the wildebeests, gazelles and zebras. This river gushes through the northern Serengeti from Kenya's adjacent Maasai Mara Game Reserve. Watching the frantic herds of the wildebeest migration crossing the Mara River can be very spectacular; there are often scenes of great panic and confusion. As you drive through the park, you will expect to spot various animals that live in the par as well as bird. You will also have beautiful views of the great Serengeti plains. Dinner and overnight at Serengeti katikati Mara river.
Day 13: Game drive in Lake Manyara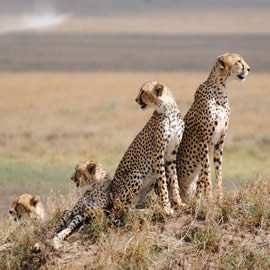 After breakfast at the lodge, you will take a drive through the park. You will traverse a mosaic of acacia woodlands, grassy floodplains and tall forest in search of wildlife and you will expect to see various mammals that live in the park as well as bird species. You will stop for a while on the lakeshore to admire the different bird species and look for pink flamingo. The rest of the Manyara ecosystem consists of mountainside, marshlands, woodlands, grassy areas and hot springs. You will drive mainly through acacia woodlands, grassy floodplains and tall forest in search of wildlife; including the famous tree-climbing lions and large family herds of elephant. Dinner and overnight at Twiga Lodge
Day 14: Drive to Arusha
Have breakfast and transfer to Arusha. On arrival in Arusha, there will be time to do some shopping and a day room will be available for resting before being transferred to Kilimanjaro International Airport for your return flight.