THE EAST AFRICAN VISA AND VISA IN GENERAL
East Africa comprises of 5 major countries majorly Kenya, Uganda, Tanzania, Rwanda and Burundi. Above all the actual founder member countries of this East African visa are Uganda Kenya and Tanzania, with major common goals of uniting all the east African member states. South Sudan is the newly young member state to join the east African community in April 2016 with the major aim of enjoying the political, social and economic gains that accrue from this conglomerate. Rwanda too which is still a member of the franco phone countries still joined as another young member state. This has given Rwanda the chance to host the 2020 common wealth heads of government meeting. However, the major question of the day is about applying for the East African visa. With this kind of visa ,one has to apply it in the duration of 6 months before the expiry of his/her passport. More still, one has to submit his/her application 3 weeks before arrival to any destination in East Africa. East Africa Tourist Visa allows one to enter the East African states numerous times as long as one has not moved out of these member states. This visa expires after 90 days when one is still in those member states.
 How can I get east African visa and which countries can I visit with this visa?
An application for an East Africa Tourist Visa may be made with several options to allow the process be as smooth as possible manually or online by submitting EATV Form 1 that gives highest authenticity on your computer to finish the whole process. Make sure a printed receipt is got.
The application may be made prior to the intended date of travel the reason towards this is that, the applicant may be given the opportunity to arrive the destination when the visa is approved entry into Kenya, Rwanda or Uganda.
Kenya: For those beginning their trip in Kenya, you can find information on the visa application process on the consular section of your local Kenya embassy's website the same applies to those of Uganda and Rwanda , the most frequent question is that, I paid for my east African visa, but can I visit Tanzania with this visa? The answer is that NO, much as Tanzania and Burundi are member states but on visa issues its different, for those who intends to visit Tanzania, you can pay your visa directly to Tanzania customs at any entry point .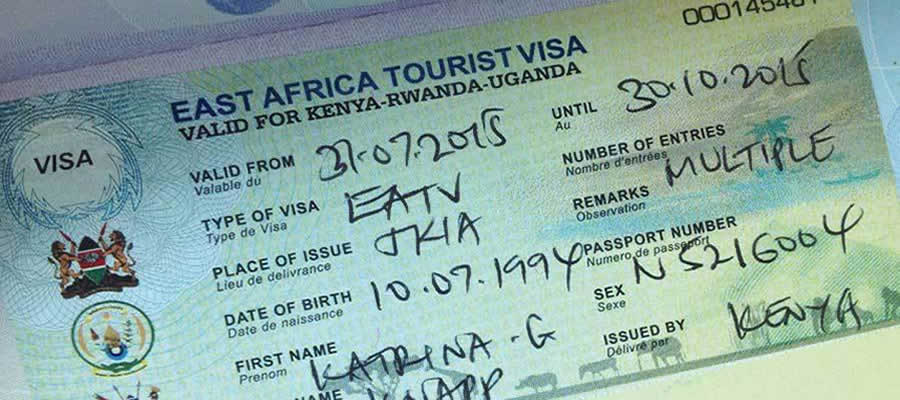 Please always mark your point of entry before you apply for the East African visa.
Rwanda: For those beginning their trip in Rwanda, you can apply through the Rwanda Online Visa Application System. Under Type of Visa, select EAST AFRICAN VISA there's an open option to ask your local embassy or its advisable always to have an inquiry mind as will it assist you to apply wisely.
Uganda: For those beginning their trip in Uganda, you can find information on the visa application process on the consular section of your local Uganda Embassy's website
Applying the East African country means,one can only visit the 3 countries , Uganda Kenya and Rwanda , only though Tanzania and Brurundi are member states but they are isolated when it comes to East African means, with this visa means once can stay within the member states as long as one acquired the multiple entry visa. https://www.migration.gov.rw/index.php?id=233 this is just an example in that assuming my first entry country to be visited is Rwanda, east African visa means your entry visa must be done on the point entry in other wards, you must consider your point of entry.
Single entry means you can travel through the member state countries without exiting but if you exit the member state, means coming back, you will be required to pay an entry visa fee to return back.
Multiple entry visa: this means one can have multiple entries within the member states however if one exit's to a non-member states, means you be required to pay again for the re-entry into the member state. For example( if one enters Rwanda with an east African visa, then on his visit plans to tour DR Congo, this mean automatically you have lost the east African visa so entering into Rwanda or Uganda again, you will be required to pay for another visa to enter Rwanda) you need to take note of this.
Does one require advance applications to enter Rwanda?
Previously Rwanda used to make it compulsory to every visitor who intended to visit Rwanda, it was mandatory for everyone to apply for the visa online in advance but as of today 2018 oct, Now getting a visa to visit Rwanda is hassle free and visa can be got upon arrival at any entry point be it at Kigali international airport or at Katuna, Cyanika, Hamrwa , Gisenyi or at Rusumo boarder . so what you only need to prepare is a copy of your passport size and visa fee$30 .
Burundi as another tourist destination, with its interesting places of visit such as Kibira national park, lake Tanganyika and Giteega cultural museum has made it so difficult to acquire visa upon arrival even if what's talked about in the lonely planet about the transit visa for 3 days , all these doesn't work, better ply for the Burundi visa in advance before you get to Burundi just to avoid the last minute disappointment as it happened to us few weeks ago.
Uganda , with no interests to visit any of the member states or planning to stay within Uganda alone, Uganda charges 450 for the single entry visa irrespective of who you're except for those with diplomatic red passport unlike DR Congo which violates the low of diplomatic passport, it charges everybody who enters Dr Congo solid and not only does it charge tourists with red passports but it's the only country that charges airport taxi charge to every client that is flying out of the country.
Entering Congo Dr from Rwanda means, entering Congo through Bukavu Ruzizi boarder or Kamembe or through Grand barriers and petit barrier one entry into one province guarantees you entry into another province provided it's a tourist visa with an expiry date /time of 2 weeks.
The only possible way to get Congo visa is through a travel agency ,and this visa must be a tourist visa and its never multiple, it only guarantees you visit within the interstate provinces of North kivu around Goma, Virunga National Park and South kivu in areas of Bukavu and Kahuzi Biega National Park such visa  is  always well monitored with approval from Kinshasa which is the capital city of DRC Congo the former( Zaire) much as Virunga park is closed for a while but soon it will be reopened  soon always apply your visa in advance to avoid last minute disappointment. Don't forget to have yellow fever vaccination cards as you plan your visit to Congo.