Planning for a complete primate adventure comparison to visit the mountain gorillas & Eastern Lowland gorillas in Kahuzi Biega National Park with a reliable tour company in Rwanda offering primate safaris in Rwanda with Ultimate gorilla expeditions. Visit the mountain gorillas in Volcanoes on double gorilla trek .
Book 5 Days/4 nights Mountain gorilla tour & Eastern Lowland gorilla trek to enjoy gorilla watching experience in Africa.
Trip Overview
Day 1: Transfer from Kigali to Ruhengeri for Gorilla Trekking
Day 2: Second Gorilla Trekking in Volcanoes national Park
Day 3: Transfer to Bukavu /Kahuzi Biega national Park
Day 4: Eastern Lowland gorilla trekking
Day 5: Transfer to Kigali.
Day 1: Kigali – Volcanoes National park (2 Hours drive Journey to Volcanoes)
This Early Morning, our company representative will brief and guide you through the safari. You drive to Musanze (formerly called Ruhengeri) in the northwest part of Rwanda, the main base town for the 1st Gorilla tracking activity. The drive is through beautiful rolling hills on a comfortable paved road. Dinner and overnight stay at Mountain Gorilla view Lodge/ Hotel Muhabura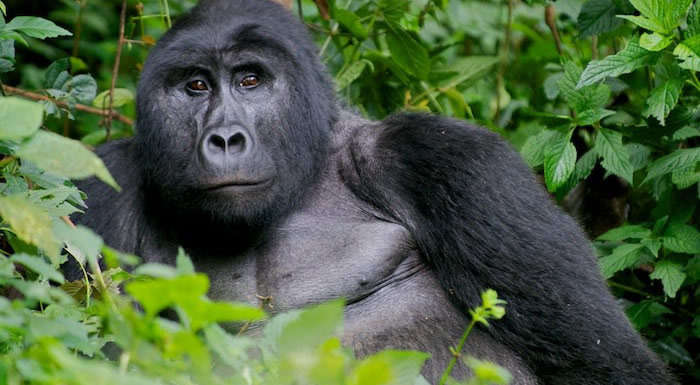 Day 2: Second Gorilla trekking.
After your morning breakfast, you will transfer to the park headquarters, for the 2nd gorilla trekking and briefing by the Volcanoes National Park's guides on the gorillas' etiquette. The gorilla group you will visit will largely depend on the assignment of travelers to the seven habituated gorilla groups. There are 10 habituated groups of mountain gorillas in Rwanda. Each group is allowed 8 visitors a day and the trek varies in length depending on which gorilla family you were assigned. The trekking commences at an altitude of 7000 feet in the upper slopes of the volcano. The paths you follow are steep but not overly strenuous. Nothing can prepare one for the impact of encountering a fully grown silverback gorilla: up to three times as bulky as the average man, yet remarkably peaceful and tolerant of human visitors. There are no words to describe the thrill of recognition attached to staring deep into the liquid brown eyes of these gentle giants, which share some 97% of their genes with humans. After locating your assigned Gorilla group, you will spend one hour in their company before retracing your steps back down the volcano slopes. Dinner and overnight stay as above.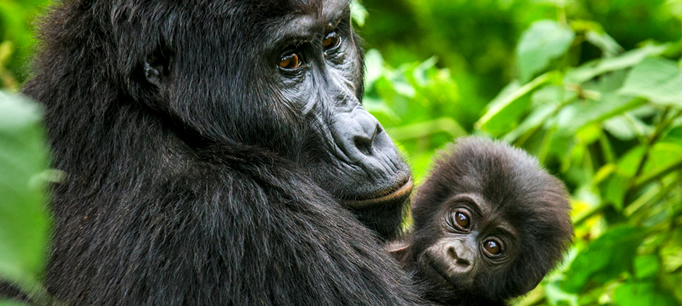 Day 3: Transfer to Bukavu, Kahuzi Biega National park- DR Congo.( 6-7 Hours Journey)
In the morning, you will be picked by the driver from your hotel in and continue on a scenic journey to Bukavu with wonderful views of the hills in Rwanda. Dinner and overnight at Coco Lodge/Orchid safari Lodge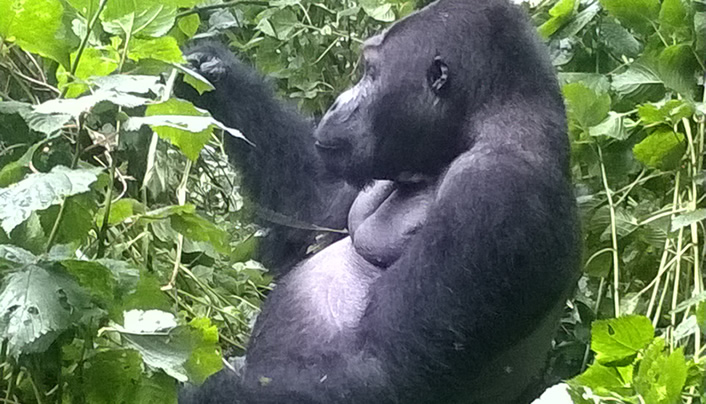 Day 4: Lowland Gorilla tracking tour in Kahuzi Biega – DR Congo
In the morning, you will head for the memorable adventure of tracking the lowland gorillas in Kahuzi Biega National park. Tacking lowland Gorillas is very amazing, lowland Gorillas differ from the mountain gorillas, the lowland gorillas are bigger in size, usually takes 1-4 hours tracking the lowland Gorillas. If time allows we may visit the Lwiro Chimpanzee Orphanage Centre near Bukavu Airport.  Return to the hotel for dinner and overnight stay as above.
Day 5: Transfer back to Kigali
In the morning after a relaxed breakfast, you will drive back to Kigali. Drop off at the airport or the hotel of your choice, if time allows visit the genocide memorial centres along the road from Nyungwe forest in Rwanda
The above price includes:
-All ground transportation
-Fuel
-Full time English speaking driver/guide
-Park entrance fees
-Vehicle entrance fees
-Accommodation
-Meals
-Box of bottled water
-3 Gorilla permits each
The price excludes:
-Tips
-Beverages
-Laundry services
-Air fares
-Visas
-All items of personal nature